Contact Us
|

Store
|
Search

Qdabra InfoPath Accelerator (qRules)
Add missing features to your InfoPath forms – qRules adds the power of code with the convenience of rules.
Managed Metadata with your InfoPath forms using qRules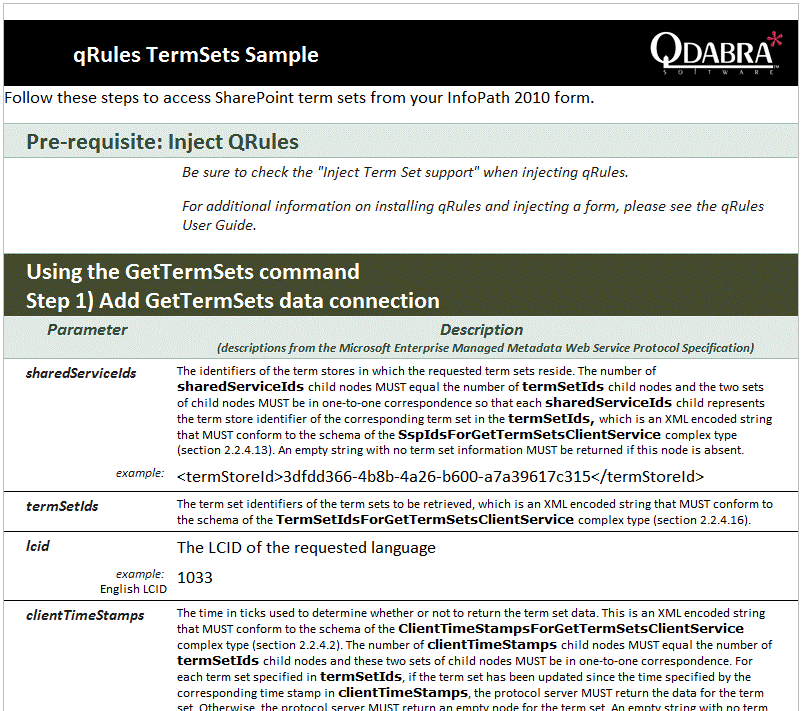 Qdabra qRules v4.0 adds the ability to use managed metadata within your InfoPath forms. With managed metadata, you can improve relevancy of your SharePoint searches by adding terms or keywords to your forms. Simply inject qRules into your forms and begin using the TermSet commands to pull in the managed metadata from SharePoint into your InfoPath form!
Every purchase of qRules v4.0 will receive a free TermSets Sample form that will help bootstrap your solution and how to use the brand new managed metadata feature.
New features:
Use managed metadata in your InfoPath forms using qRules
Now you can add keywords and terms to your InfoPath forms
Keywords lead to better search results on SharePoint
New commands:
GetTermSets – Retrieve the set of terms from the taxonomy web service
GetTermSetsByLabel – Retrieve a set of terms based on a label or search string
Video Tutorials