Contact Us
|

Store
|
Search

Active Directory Web Service
Easily access Active Directory from your .NET client to retrieve the current logged-in user and get details for other users based on the user alias.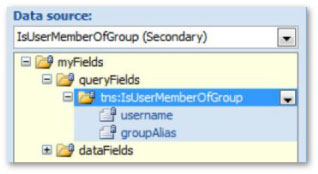 Benefits
Get user information from Active Directory
Auto-fill form fields - no coding needed!
Works in browser-enabled forms
Call from Web page - no InfoPath required
Requirements
Web server running ASP.NET
.NET client (InfoPath form, Webform, Winform, etc.)
Limitations: cannot get data across domains
Resources
Features
Qdabra's Active Directory Web Service supports the following methods:
Popular:
GetMyInfo: Gives the Active Directory properties of the currently Logged In user
GetUserInfo: Gives the Active Directory properties of the specified user name
FindUsersByAlias: Find any users with an alias matching the specified search string
FindUsersByName: Find any users with a name matching the specified search string
GetManagerAlias: Returns the alias for a user's manager if one is set
Advanced:
GetEmployeesForManager: Returns a list of employees reporting to the specified manager
GetMembersOfGroup: List the users in a specific group
GetGroupsForUser: Lists the groups that the user belongs to. Defaults to currently logged in user.
IsUserMemberOfGroup: Returns true if the user is part of the specified group
GetAllUsers: List all users in your domain for quick selection.
GetMyDomains: Returns a list of the DBXL domains to which the current user belongs.
After installing, you can query the Web Services Description Language (WSDL) for AdUserInfo.asmx to see a full list of Web methods.
New Feature in January 2013:
Added alternate path support for Active Directory to allow a second LDAP path to be searched.
Free Trial
We currently do not have a standalone free trial, but you can install a free trial of DBXL which includes ADWS
Pricing
Qdabra Active Directory Web Service: $595
Qdabra Active Directory Web Service Enterprise Version: $1,995
Qdabra Active Directory Web Service Enterprise Perpetual Version: $2,995
Available in our Web Store

Support
The latest update was released January 18, 2013. You have 180 days for a free upgrade with the standalone version and 1 year for the Enterprise version.
If you have purchased from the Web store, log in to your account to download the latest version.
180 days free upgrade for standard version, and 1 year upgrades for enterprise version.
What Our Customers Say

Qdabra's Active Directory Web service (ADWS)
lets you integrate your InfoPath forms directly with Active Directory for retrieving user profile and group-related information. Due to the SharePoint User Profile Service not being available in WSS 3.0 and SharePoint Foundation 2010, Qdabra's ADWS provides a great alternative for retrieving user profile data. However, it is also extremely useful even in MOSS 2007 and SharePoint Server 2010 due to its extra features that don't exist in any of the User Profile Service's methods. For one of our clients, even though we have MOSS 2007, we still rely on Qdabra's ADWS due to the fact that ActiveX controls in InfoPath browser forms, such as the Contact Selector, do not work properly in browsers other than Internet Explorer. Since our client has a large mix of Windows and Mac users, it is imperative for us to build solutions that cater to multiple browsers. Qdabra's ADWS gives us this ability by providing an alternative to the Contact Selector and by providing additional features that aren't even available in the User Profile Service, such as GetMembersOfGroup (list all members for a specified AD group) and GetEmployeesForManager (returns all users who have a specified user listed as their manager). We've deployed ADWS in a complex, split-forest (one-way trust), multi-enclave farm with two sets of load balanced Web Front Ends in separate networks with SSL and Kerberos authentication, and it is working very well, so we couldn't be happier.
Another benefit to add would be that the GetUserMemberships method of the User Profile Service in 2010 does NOT return Security Groups, which is a big problem. We need ADWS in order to retrieve Security Group memberships for people in 2010 until Microsoft fixes it, but they just told me it won't happen until SP2 at best.
by Clayton C., Microsoft InfoPath MVP