Contact Us
|

Store
|
Search

Qdabra's Electronic Signature XTP
Add electronic signatures – without the hassle of setting up digital signatures!

Qdabra's Electronic Signature Template Part package now includes a UDC (Universal Data Connection) – which means it's even easier to deploy! Update the UDC with your SharePoint list and library links and start proving authorization your InfoPath forms even faster!
Benefits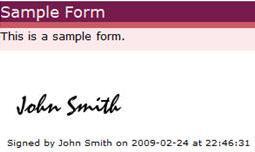 Customizable control for your InfoPath forms - both browser and client
Users enters PIN and InfoPath replaces with their signature image
Great alternative to digital signatures - no digital certificates required
Requirements
InfoPath 2007 or Later - template parts (XTPs) are not supported in InfoPath 2003

Note: InfoPath 2007 does not support displaying images in web browser forms, however, does work for DisplaySignedBy field and uses italic font to display name.
Important: custom controls do not work with InfoPath customized SharePoint list forms. Please use Signature XTP for SharePoint library forms.

SharePoint 2007, 2010, 2013 or O365 Lists - securely store PINs and signature images
Scanned-in Signatures and User Aliases - to create above lists

Handwritten signatures not available? Use placeholder images created using emphasized text.
Resources and References
Pricing
Support